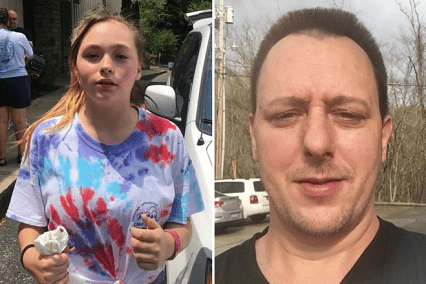 Additional information has been released concerning the shooting death of a 12-year-old Johnson County girl.
Investigators with the Johnson County Sheriff's Office told WYMT.com that Stacy Collins, a man found shot on an isolated roadway near Van Lear, is a suspect in the death of his daughter, Stacia Collins.
"It was found that the male subject had what appeared to be a self-inflicted gunshot wound," the case's lead investigator, Deputy Tim Clark, told the eastern Kentucky television station.
Stacy Collins was transported to Highland Appalachian Regional Hospital where he continues to receive treatment.
Not long after Stacy Collins was located, authorities discovered his daughter was missing. A search party was formed, and approximately two hours after her father was discovered, Stacia Collins' body was located about two miles from where her father was found.
"Some people were driving through the area approximately … two-and-a-half-miles away from where the male subject was found, and they located a young female that was laying (sic) in the roadway," Clark told WYMT.com.
Clark further stated that Stacy Collins "is a suspect in the death of his daughter …"
"We're doing everything we can do at the sheriff's office on this investigation to make sure that justice is served on this and the person responsible for the death of this young girl is prosecuted," Clark added.
(Photo l-r: Stacia Collins, Stacy Collins, courtesy of Fox3 Now)
By Ken Howlett, News Director
Contact Ken at ken@k105.com