Former Herd player Stepp fights COVID-19
By TIM STEPHENS The Herald-Dispatch tstephens@hdmediallc.com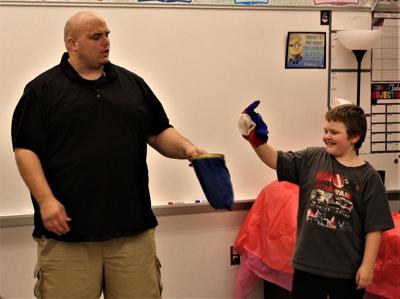 HUNTINGTON — Former Marshall University offensive lineman Joey Stepp says COVID-19 is meaner than any defensive lineman he faced.
Stepp, who graduated in 2003, has been battling the coronavirus and has been hospitalized since Wednesday.
Stepp said a knee injury started his trek to being tested for the virus, and the ride has been difficult.
"My knee was hurting, and I got a cortisone shot," Stepp said. "I started hurting all over and honestly felt like death. I assumed it was a reaction to the shot."
Stepp, a school counselor and well-known magician, was tested for COVID-19 on July 4, and the result was negative. Still, the former football standout from Inez, Kentucky, said he felt awful.
"Cold chills so bad I turned my heat to 90 and had on sweats," Stepp said. "Then hot flashes with the air on. I couldn't get relief."
Still, Stepp didn't think he had the virus since he had no sore throat nor high fever. He said he checked his temperature every three hours, and it never topped 100.9. He said at times he felt fine, then went back to being miserable.
On July 11, Stepp returned to the emergency room and was tested again. While waiting for the result, doctors treated him with steroids and fluids. The result again came back negative, and Stepp was diagnosed with pneumonia.
On Tuesday, Stepp's fever increased.
"I soaked my bed with sweat," Stepp said. "It was awful. I woke up like I was a kid in a pool."
On Wednesday, however, Stepp was back to normal. He said it was the best he'd felt since July 1.
Stepp's infectious disease specialist reviewed the former Sheldon Clark High School star's chest X-rays and asked him to come back for another COVID-19 test. This time it was positive.
"So on the day I felt my best, I tested positive for COVID," Stepp said. "No fever since Wednesday. No symptoms other than being short of breath, but here I am."
Stepp said the steroids caused his blood sugar to rise, concerning the doctors, but he is expected to recover.
"The staff is amazing, and they take great care of me," Stepp said. "So, yes, this thing is real and, in my opinion, the scariest thing is there is still so much unknown."
FROM THE HERALD DISPATCH