Republicans override governor's veto of bill allowing candidates to chose running mates after primary
By Al Cross and Dalton Stokes Contributing writers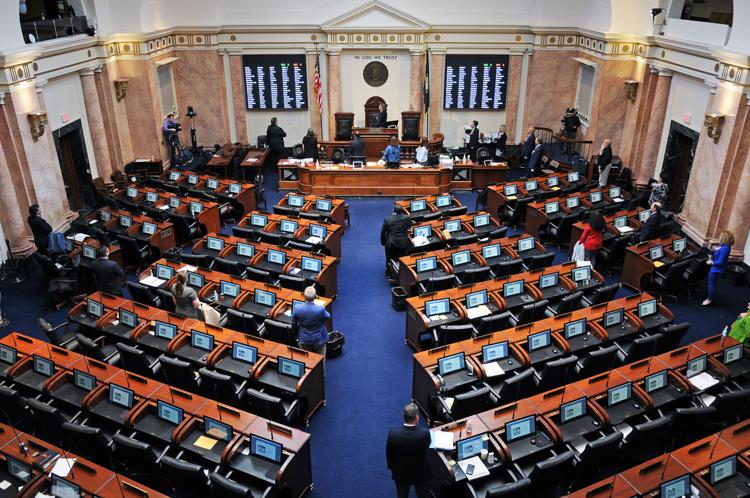 Republicans gave themselves an added advantage in the 2023 governor's race Tuesday, overriding Gov. Andy Beshear's veto of a bill that will allow candidates to pick their running mates for lieutenant governor after the primary election.
Legislators in both parties said the new law would give Republicans a better opportunity to unite their party after a divisive primary, something that has become common as their party has grown. Since Democrats hold the governorship, they are much less likely to have a divisive primary in 2023.
"It probably works better for the challenging party going into an election," the bill's main sponsor, Rep. Joe Fischer, R-Fort Thomas, told The State Journal. Asked if he had partisan motives, Fischer said his only intention was to "unify the party" and it would ultimately help both parties.
Looking back at November's narrow election, Fischer said Beshear would have been helped if he had been able to put primary runner-up Rocky Adkins on his slate, and then-Gov. Matt Bevin could have likewise helped himself with a running mate from Eastern Kentucky.
Actually, the amendment asked voters if they favored "electing the governor and lieutenant governor by casting one vote for both offices." That meant it applied to the general election, not the primary, which results in a party nomination, not an election.
"It was left to the General Assembly to decide by statute the selection process," Senate Majority Floor Leader Damon Thayer, R-Georgetown, said as he moved to override the veto in that chamber. The legislature passed laws, or statutes, to do that in 1992.
Thayer said passage of House Bill 336 would provide "the opportunity for the parties to unite."
Sen. Reggie Thomas, D-Lexington, said Kentuckians were told in 1992 that the governor and lieutenant governor would run together, and they want to know during the primary race who the nominee's lieutenant governor would be.
After his speech, Thomas told The State Journal that Republicans were trying to make it easier for them to form a slate that would defeat Beshear and Lt. Gov. Jacqueline Coleman in 2023. (Most governors elected since 1992 have picked a new running mate when seeking reelection.)
The new law will allow nominees for governor to select a running mate as late as the second Tuesday in August, which would come after the political speaking at the annual Fancy Farm Picnic, when statewide races typically hit a higher gear.
The bill passed 24-10. All Democrats present voted against it, and four Republicans joined them: Sens. Matt Castlen of Owensboro, John Schickel of Union, Wil Schroder of Wilder and Max Wise of Campbellsville. Castlen and Schroder said in explaining their votes on the floor that it's good to know in the primary who the lieutenant governor would be.
Wise said in an interview that he liked the current setup and the change would remove from the process "the party establishment," which provides a vetting process for candidates.
The idea has been discussed for many years, sometimes with the lieutenant-governor selection being ratified by the party's ruling body; candidates for vice president are selected by presidential nominees but actually nominated by national party conventions.
The bill, which got little attention during the legislative session truncated by the coronavirus pandemic, also passed the House largely along party lines.
House Democratic Caucus Chair Derrick Graham of Frankfort said in an interview, "It takes the people's choice out of it from the very beginning," and that in previous races, "at least … you know what kind of person they are by the time they start the campaign to the time the primary."
As for the party-unity argument, Graham said, "I think the parties can still be unified … and if you're going to be loyal to the party regardless, you're going to support that candidate for governor."
By Al Cross and Dalton Stokes Contributing writers
THE STATE JOURNAL