HS ATHLETICS: KHSAA announces Triple-Threat Award list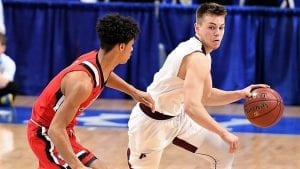 The Kentucky High School Athletic Association (KHSAA)  has released the list of triple-threat winners for 2018-19.
In an effort to continue the national emphasis and the KHSAA's own efforts to de-emphasize sports specialization in the athletic culture, the Commissioner's office launched the "Triple Threat Award" program in May of 2018 to recognize those students who participate in high school athletics year round.
The award, which is given to student-athletes who participate in a KHSAA sport or sport-activity on the varsity level during each season of the academic year (fall/winter/spring), was presented to a total of 1,878 student-athletes for 2018-19.
Here is a list of students from across the region:
BELFRY
Thomas Bond, Avery Browning, Israel Canterbury, Brett Coleman, Emily Deaton, Anna Deskins, Elijah Fields, Chandler Fluty, Dylan Goff,  Isaiah Hackney, Taylor Layne, Logan McCoy, Ben McNamee, Ariel Mounts, Kylea Stanley, Randall West, Celia Wiedel and Ethan Wolford.
BETSY LAYNE
Davey Bentley, Zach Bentley, Trimble Dotson, Hailey Dye, Joshua Hall, Colin Howell, Katie Kidd, Chase Mims, Nathaniel Mims, Frank Tackett and Lauryn Watkins.
EAST RIDGE
Brad Howell, Lexy Little, Kyra Looney, Zack Mason, Haley Parks, Connor Puckett, Lakin Puckett, Eli Rose, Kelsi Slone, Hannah Thacker and Leah Wells.
FLOYD CENTRAL
Caleb Hager.
JENKINS
Abigail Bentley, Keegan Bentley, Sameria Meade, Lindsey Rose, Makayla Stambaugh, Jerrica Thacker, Kristin Thacker and Joshua Wright.
JOHNSON CENTRAL
Grant Bingham, Kelci Blair, Connor Castle, Dalton Castle, Elijah Conley, Faith Fairchild, Bryson Hackney, Devin Johnson, Haley May, Nathaniel Narendrakum, Jacob Rice, Tierzah Salyer, Jacob Spriggs, Toby Spriggs, Cory VanHoose, Grant Ward, Kaitlin Wells and Alyssa Willis.
LAWRENCE COUNTY
Noah Fairchild, Ethan Fields, Brandon  Fitch, Baden Gillespie, Trey Halfhill, Sheree Hay, Zach Holt, Tyler Maynard, Parker Preece and Dylan Wheeler.
LETCHER CENTRAL
Jessica Boggs, Tionna Collins, Harley Driskell, Samerrah Frazier and Tori Holcomb.
MAGOFFIN COUNTY
Alyssa Brown, Destiny Conley, Stephanie Helton and Mason Lovely.
PAINTSVILLE
James Allen, Hope Auxier, Clara Blair, Chloe Fleming, Ava Hyden, Anna Keeton, Alissa Mullins, Lindsey Nelson, Aleiah Newsome, Kaitlyn Newsome, Hannah Spencer, Mary Stambaugh,  Abigail Williams and Seth Williams.
PHELPS
Caleb Dotson, Kacie Dotson, Landon Dotson, Riley Dotson, Cameron Johnson, Cainan Land, Christian Land, Kaylynn Layne, Seth Mayhorn, Danielle Prater, Emily Prater, Alyssa Sargent, Kyra Slone, Chloe Smith, Daniel Smith and Brandon Turnmire.
PIKE CENTRAL
Bryce Adkins, Bailey Birchfield, Chloe Neece and Dakota Starcher.
PIKEVILLE
Christian Billiter, Elizabeth Brown, Isaac Coleman, Alivia Gearheart, Eric Green, Emily Hager, Grant Holland, Zac Lockhart, Taylor McKinney, Isaac McNamee, J.T. Orem, Connor Roberts, Annie Salyer, Leslie Stewart, Madison Thacker, Olivia Whitfield and Kendal Wright.
PRESTONSBURG
Caroline Ariaz, Robert Castle, Braxton Collins, Isaiah Collins, Kadynce Hackworth, Kaleb Jarvis, Grant Justice, Kaitlyn Keathley, Jillian Kidd, Andrew Martin, Shae Robinson, Kennedy Rose, Blake Sizemore, Madeline Stambaugh, Blaise Stumbo, Aaron Watson, Arrington Wright and Garrison Yates.
SHELBY VALLEY
Aaron Bates, Lincoln Billiter, Jacob Caudill, Makayla Gillispie, Laci Johnson, Angel Newsome, Kammie Ratliff and Sophie Ratliff.
SHELDON CLARK
Austin Borders, Alex Bowen, Ethan Frey, Randy Kinser, Nick Maynard, Paige Maynard, Lila Spaulding, Daylon Stafford, Fallyne Wefenstette and Su Wi.